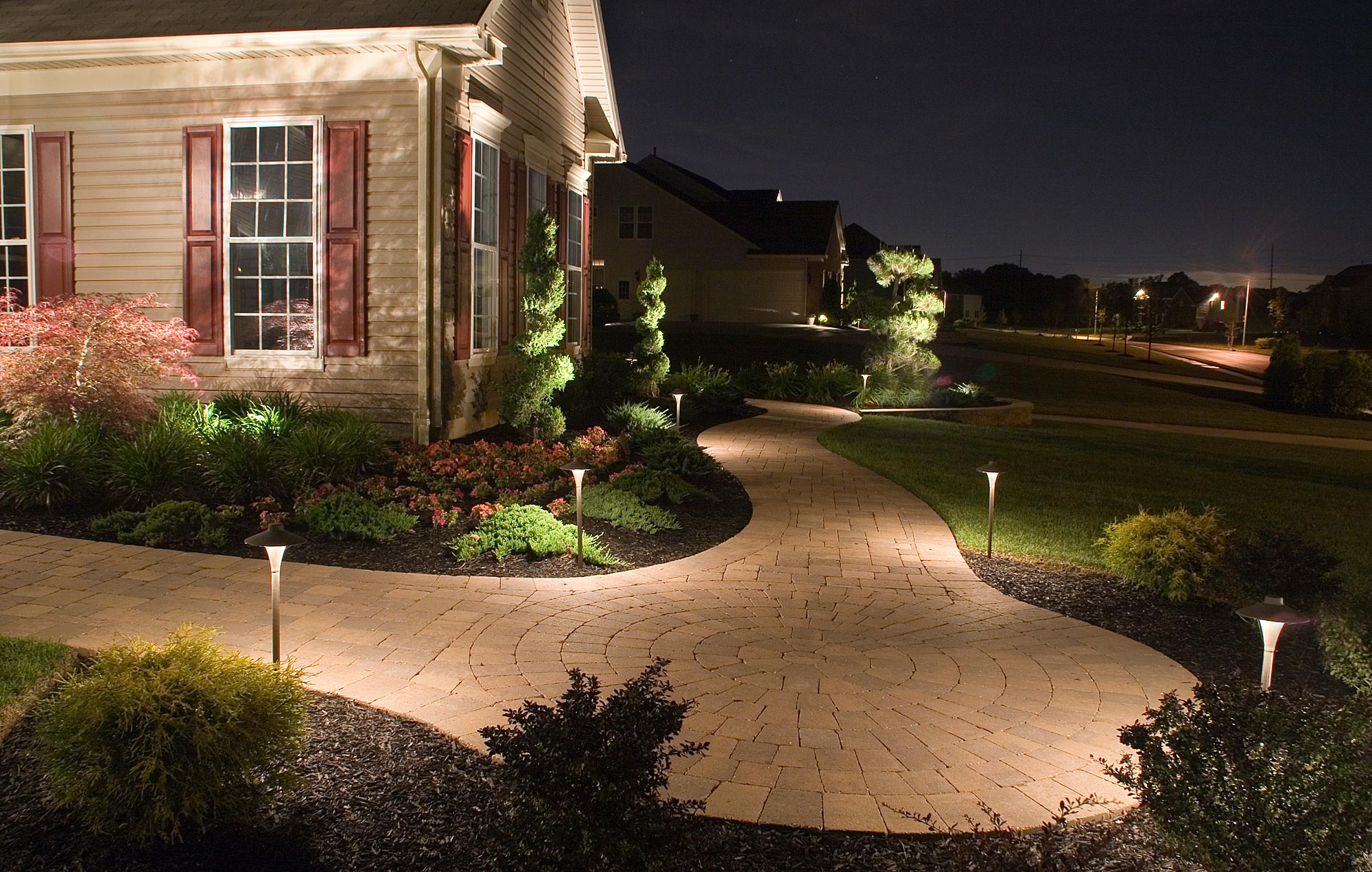 Well-executed exterior lighting can enhance the architectural detail of your property and makes your home look beautiful in the evening adding an abundance of curb appeal. Aside from aesthetics, good exterior lighting can give you and your guest's added security and peace of mind when entering and leaving your home.
Much of the success of exterior lighting depends mainly on its design. Professional lighting designers often talk about the "moonlight effect." That's a naturalistic look that features light no more intense than that of a full moon, but still strong enough to make beautiful shadows and intense highlights.
A well-lit front entrance enables you to greet guests and identify visitors. Wall lanterns on each side of the door will give your home a warm, welcoming look while assuring the safety of those who enter.
Install a single fixture above the garage door to provide lighting for safety and security. Consider installing a motion sensor on these fixtures or a photocell that turns the lights on at dusk and off at dawn to save energy.
Another important factor in making your home secure and safe from intruders and animals. Good lighting around the entire perimeter of your home can be a deterrent in itself. Illuminate any side of the house that would otherwise be in shadows. Spotlights installed on your eaves will accomplish this, or, for a more dramatic look, consider ground lights pointed up to graze your walls.
Steps, paths, and driveways should be illuminated to make sure family members and guests are able to move about easily and safely after dark. You can install path lights or post lanterns or attach lights to the side of the house. Low-level path lights, which spread circular patterns of light, will brighten your walkway while highlighting nearby flower beds, shrubs, and ground cover. Low-level path lights can also be used to define the boundaries of long driveways.
If you have added exterior features like a swimming pool, an exterior porch or entertaining space, ensure these areas are well lit as well.
Choose lighting fixtures that look beautiful, but also throws light a good distance away from your home. This will help illuminate dark areas and aid your vision to see outside from inside your home. If you have a large property, floodlights installed on the corners of your home will help throw light further than average wall sconces on the exterior of your home.
Another consideration to keep in mind is to select outdoor light fixtures that are energy efficient and made of durable material to suit the harsh outside temperatures during the hot summer days and cold winter nights. In most cases, fixtures made of cast aluminum are a very durable option.